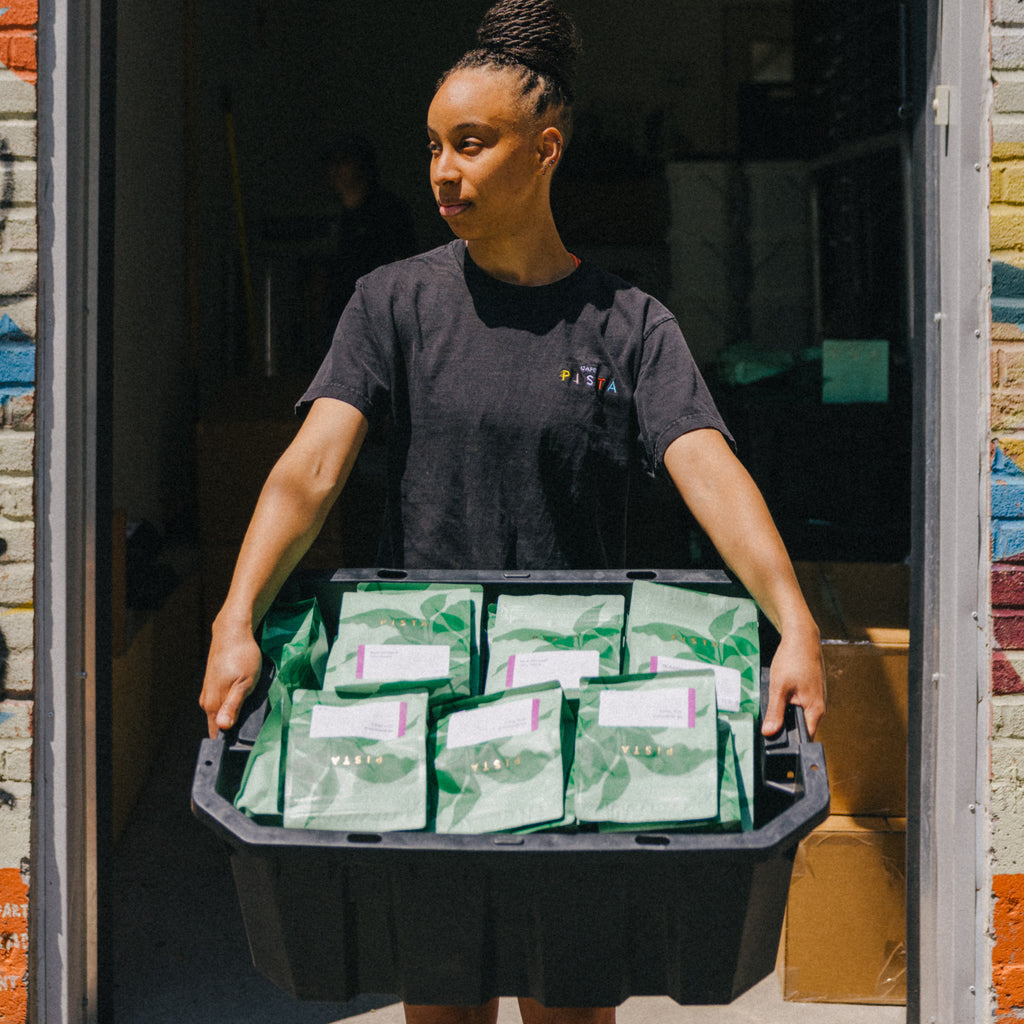 Why Pista?
The goal of our wholesale program is to provide coffee, service and support to partners who share our values. Our goal is to help all our partners, large and small, present a thoughtful, differentiated and elevated coffee experience, and to add value and knowledge through training, collaboration and personalized advice.
Open a Commercial Account
Community and Events
We love hosting events and collaborating with our business partners to interact with their team and customers in unique and meaningful ways. Recent events we have co-organized include Café Collectif, an event bringing together several specialty roasters from Quebec, an educational tasting on the different origins and projects we support, a training session on espresso and its parameters for a team whole. We always appreciate these opportunities to connect and contribute to a community that shares the same ideas and values as us.
Ethically and sustainably selected coffees, roasted to perfection for the pleasure of your palate
Transparency

Our commitment to purchasing price transparency and bean traceability reflects our desire to support producers, guarantee the quality of our coffees and promote the sustainability of the coffee industry. This is why, with each coffee, you can trace the origin of the beans back to the farm, as well as the journey to your cup, ensuring you get a product paid at the right price.

Quality

All our grains are selected with great care and follow a rigorous selection process. Each season, we receive sample batches of exceptions from our import partners. These coffees are tasted blind by the roasting team and chosen for their taste qualities, their origin, the people and the projects associated with them. So it's easy to say that these coffees are the team's favorites!

Community

Beyond the cup, its taste, and the baristas, there is a community at the origin, to whom we owe our coffee. These "micro" producers, owners of only a few hectares of land, are responsible for more than 85% of the coffees produced around the world. Our cafés, through innovative projects, encourage and further support the financial independence of our partners on the farm.
FAQ
How to place an order?

Once connected to your account, click on the Commercial tab and select Quick order, you will have access to all our products.
What is our roasting schedule?

All our coffees are freshly roasted to order. We roast on Monday and Thursday. All orders placed before 9am on roasting days will be roasted the same day and shipped the next day at the latest.
What are our volume discounts and minimum order?

The minimum order to access commercial prices is $250. We also offer an additional volume discount of 4% on orders of $500 and more and 7% on orders of $850 and more.
What are the delivery costs?

We have a flat fee of $8 per delivery and delivery is free for all orders over $500.
Can you train our teams?

Our team is equipped to assist you on several levels! We are here to support your project and ensure that serving specialty coffee from a sustainable and traceable business is a recognized asset in your business. Whether you need coffee, design or accounting training, we are available for you!
Do you sell commercial equipment?

Yes, we work with several companies recognized for their reliability and durability. La Marzocco, Nuova Simonelli, Mahlkonig, Mazzer to name a few. We also have access to technicians to ensure compliant installation and recurring monitoring of your equipment.